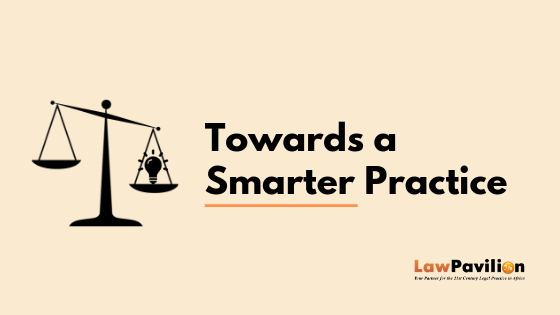 1
Towards a Smarter Practice
For the longest run, hard work was the holy grail of all motivations, until some people decided smart work even pays better. Working hard is mostly a show of strength, tenacity and persistence, and none of those qualities can be relegated on one's journey to success. Nevertheless, as the world becomes increasingly technology driven, the workplace continues to demand more than sheer willpower.
Smart work. It's not just about pouring your whole heart into a task, infact it may sometimes mean working less. But here's the catch; smart work is about constant introspection and the infusion of technology. It is about looking for scale. It is about achieving more with the same or less resources. It is about immediate to long-term thinking, not just static on-demand thinking.
The Law School barely educates students on how to launch and run a successful practice. Instead, (and at its best), it teaches students the concept of working hard to be an excellent problem solver — to think like a lawyer. And when that phase is done, many new lawyers go to work at law firms where the number of successful cases and briefs handled often equates to personal success. It is only when those lawyers grow along the corporate lines to become partners or leave their firm to set up their own practices do they start to look at the business side of the operation. And, while they understand the concept of hard work already, the idea of working smarter to build success may not be much of a reach.
The tips below offer some practical guidelines to build a successful and smart law practice:
1. Understand that you can't do it alone
Generally, as lawyers, we feel that we are the only people able to solve our clients' problems. Without our expertise, we feel like the case will fail and the client will end up unhappy. For some running their own legal ventures, we feel that our staff cannot manage without our guidance. And as a result of these, we spread ourselves too thin and in many cases, fall out of the good relationships in our personal lives.
Working smart addresses this ruinous way of thinking. When we adopt process introspection and embrace the gift that is technology, we can learn to loosen the reins a bit; to take a step back, and realise, that cases can still be resolved in other efficient ways, and that our staff are often more satisfied with less oversight. This won't not happen overnight, but it can develop be developed with a staunch commitment, training and the right set of people around us. It also involves explaining to clients that a team approach allows their legal work to be completed in the most efficient and cost-effective manner.
2. Embrace Dynamism and Efficiency
Technology has changed the way we can practice law and communicate with clients, courts, and counsel. However, because it is usually fast-paced, it can sometimes be overwhelming, especially when we adopt it in a manner that it controls, instead of helping us. Also, technology can be quite fragile and insecure.
Nevertheless, the upsides more than outweighs the demerits. With the proper communication and collaboration tools, you can work from anywhere in the world, and at anytime. This means that you can even serve clients beyond the shores of your geographical location.
Tools like PRIME, Solicitors' ToolKit, Court Manager, etc can also help you immensely with research, drafting, time and task management, etc. and save you more than 5 hours extra per day.
3. Pay attention to everything
It doesn't matter the level of your practice, paying attention to the business and numbers is a critical skill. A law practice will only be successful if it produces great work for its clients, and that goes beyond just winning cases,and churning out great briefs. Negotiating right, preparing professional documentation (including invoices, etc), speaking well and more add to your value as as a legal practitioner. So, beyond singular tasks, you need to pay attention to everything that inputs and outputs within the system that accommodates and sustains your career.