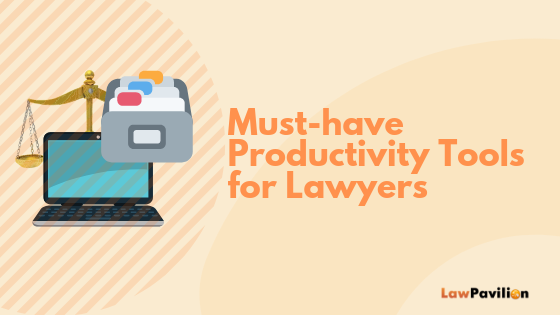 3
6 Must-have Productivity Tools for Lawyers
1208 views
A simple search in any application store (Android, iOS, Windows, etc) will show you that "productivity" has a huge demand. Everyone wants to be a better time, personnel or resource manager. It's the basic reason why we have those – be better, do better – new year resolutions.
But we all know by now, that having a zeal to change is barely a desire that actualizes nothing. There's a need to put in the work, stay consistent and expect the best. And tools (while they're not going to actualize our goals for us) are very important vehicles of transportation to Goalland.
Below are 5 tools we have taken time to sort out,and are quite confident will both delight you and saving you valuable time at work.
Calendar, Emails and File storage: G-Suite
While you can use the array of Google's products independently (and free of charge), Google's G-Suite (available from $5 per user) is a fantastic and more robust secretarial tool for your use. With it, you can manage your meetings, emails, and do real-time content collaboration with colleagues and other learned fellows. Good thing about G-Suite is that you can use the array of products available within the service with your custom domain. So instead of having olusolapartners@gmail.com, you can decide to run with hi@olusolapartners.com.
G-Suite will help you with creating and organizing your files efficiently with the popular Google Drive (safe, encrypted and efficient file storage system), gives you better control of Gmail, manage all your schedules, notes and meetings efficiently through Google Calendar, and offer you an avenue for efficient and safe communication and presentation.
It's integration with tens of thousands of 3rd party apps also make using the platform seamless and exciting.
Contract signing: HelloSign or Adobe E-Sign
HelloSign and Adobe E-sign are very good tools to get your clients to sign documents remotely, saving time for them and turnaround for you. You can easily on-board clients at first intake within minutes, rather than waiting for a document to come back to you. And this reduces or completely eliminates your potential client bounce rate, or losing sales altogether.
Good thing is, documents signed with these services are generally admissible in court. On HelloSign particularly, an executed agreement comes with a time-stamped audit trail that records everyone who touched the document, including party names, and email and IP addresses.
Research and Analytics: LawPavilion PRIME
PRIME is a digital library available for almost any smart device (and online) that delivers digital content like the L.P.E.L.R. – Law Pavilion Electronic Law Reports. It is the only Electronic Paginated and Paragraphed Law Report in Nigeria and it contains Books and Journals with an inbuilt Digital Rights Management system that is fast and easy to access.
PRIME contains of the largest collection of Judgments of the Supreme Court (from 1970 till date) and Court of Appeal (from 2007 till date) in Nigeria, having over 9,000 cases. And new judgments are added within 48 hours of release, so you can stay updated. It also has a 43-year Consolidated Index and Digest of over 50,000 issues covering every area of law.
PRIME also includes the judgments of The Supreme Courts of England and America for comparative analysis. ORDER PRIME HERE
Case Management (Including Drafting & Publishing): Solicitors' Toolkit
Solicitors' Toolkit (S.T.K.) is a Productivity Suite and one-stop shop for speedily resolving all solicitor related issues. It provides Solicitors comprehensive resources and information that are constantly updated to reflect recent development and trends in the legal industry. It also includes Forms and Precedents, Contract Templates and Drafting Tools, Laws of the Federation and Regulatory Agency Processes and Law Reports of special jurisdictions.
S.T.K as it is popularly called, is a solution that takes cognizance of the specific need of Lawyers who practice exclusively as Solicitors or work within private corporate organisation. Or more interestingly, individuals who simply have compliance issues to tackle at a primary level as private or corporate citizens. All the forms and precedents contained in the toolkit are annotated, while the agreements and documents templates are standardized to meet global needs. ORDER STK HERE
Project management: Podio or Trello
Podio and Trello are some of the best project and task management tools available to get your tasks, clients, and projects together in one place. You can create templates (podio) or boards (Trello) for routine workflows and larger projects, and see the work status of everyone working on a project or assignment per time. And because it integrates well with Google Drive, you can attach documents to each project, and they'll be very easy to search for.
The versatility of these tools makes them go-to productivity tools. In addition to managing tasks and projects, you can use them as (or with) a CRM tool(s), to manage follow up with leads, or even track expense reports.
Remotely accessing documents on your desktop: TeamViewer
When you store confidential files on your computer and need to access them quickly (e.g when you forgot to bring an important document to your deposition), TeamViewer allows you to reach those documents from another computer securely.
Furthermore, to connect to your computer from anywhere, you can also use the TeamViewer app to connect your smartphone to your computer. The display automatically resizes to fit your phone's screen, so you can access your files and desktop apps easily. You can even share the screen of your desktop to a projector or tablet wherever you are, or print remote files from your phone.