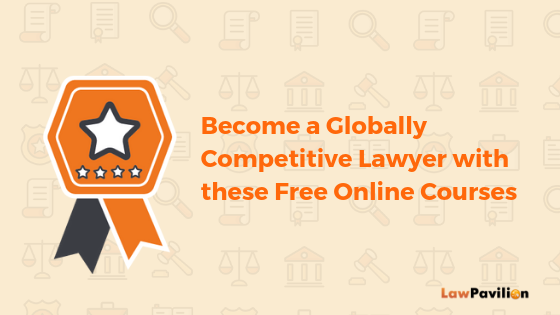 Become a Globally Competitive Lawyer With these Free Online Courses.
University-level education doesn't always have to cost you an arm and a leg! The internet has blessed us so much that access to high quality education is cheaper than it has ever been in the history of mankind, and in this case… it is even absolutely free!
Websites like Coursera, edX, FutureLearn, Alison and much more offer University-grade and professional courses (in partnership with some of the world's biggest institutions) in a wide variety of subjects, free of charge! And the advantages they come with, beyond learning is beyond enough.
With some of these platforms, you have the opportunity to network with other students and professionals across the world, get updated perspectives on global affairs, and you even have opportunity to access exclusive resources and grants.
We've listed direct link to Legal courses you can take on some of these platforms below:
edX and Coursera
edX courses are selected from high caliber universities like Harvard, UC Berkeley, MIT, etc. While the courses themselves are free to learn, you can pay a small fee to earn university credits and even get a certificate from the partnering university for the course you're taking.
edX Law courses include:
– Contract Law
– The Psychology of Criminal Justice
– Intellectual Property Law and Policy
– International Human Rights Law
– Health Law, Policy and Advocacy
– International Investment Law
Coursera also offers some of these courses and many more.
Study.com
study.com offers classes where students can learn law terminology and legal concepts, although not for university credits or certificates.
Courses on study.com include:
– Contract law basics, with information on the difference between unilateral, bilateral, expressed, implied, formal and informal contracts, and more.
– Property law, explaining trade secrets, patents, and other forms of intellectual property, along with real and personal property.
– Torts in business law, in which the elements of tort law are outlined, as well as personal injury terms including battery, trespass, negligence, and libel.
Alison.com
Alison.com offers courses intended to provide those seeking a comprehensive understanding of legal systems with the knowledge they need to succeed in their career.
Alison offers free diploma in Legal Studies (with some emphasis on business), which covers:
– General Data Protection Regulation
– Business Law
– Alternative Dispute Resolution
– Accounting
– The adversarial system
– Corporate Governance
– Financial Contracts
Digital Currency Council
If learning about emerging Bitcoin technology and staying current with digital currency is your thing, then Digital Currency Council (DCC) is your go-to. DCC offers free training for legal professionals in the:
– Basics of Bitcoin
– Key regulatory issues involving digital currency
– Best practices in the digital currency domain
– Details about important court cases and enforcement actions related to Bitcoin.
DCC's training also allows Lawyers to take advantage of opportunities in the digital currency industry by becoming a DCC certified professional.
Other platforms for learning include:
Academic Earth and FutureLearn.
Do you know of other free (or low cost) learning platforms for legal professionals? Tell us about them in the comments!