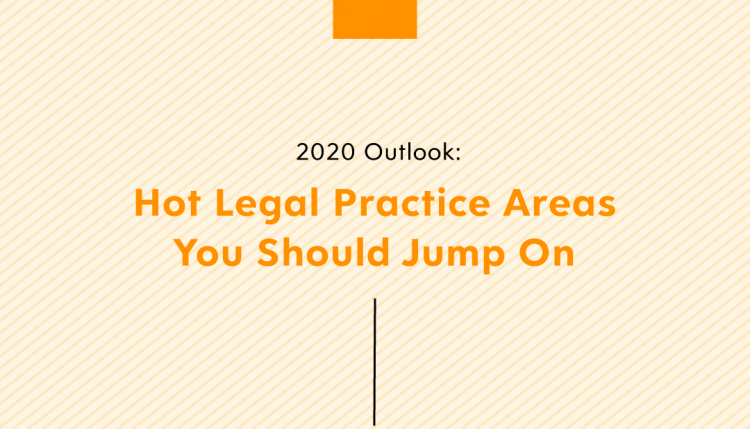 2
2020 Outlook: 9 Hot Legal Practice Areas You Should Jump On
Being a lawyer means many things but the most paramount is that you are considered to be a learned fellow. Everybody expects you to be an expert at everything or at least know something about everything. To help you a bit, our esteemed writers' cum legal experts and techies at LawPavilion have put together a list of hot legal practice areas you should jump on in this new year. Learn them, know them, become them.
1. HEALTHCARE LAW
Health law, an area of law concerned with the legal issues involved in ensuring the health of individuals and populations also covers the provision of health care and the full operation of the healthcare system. Although this practice area has been in existence before now, there is increasing attention from the public as people are getting more educated about maintaining a healthy lifestyle and health service options available to them. This creates the possibility of more liabilities, as such, more people are now willing to seek protection under the law, make demands of service providers and take legal steps when their rights get infringed. Health law is a broad and big growth field especially as technology begins to take over some of the processes and services. To jump on this legal practice area, you may need to take introductory classes in Health Law. However, in Nigeria, some of these courses are embedded in the full-scale law or health science programmes. Therefore, you would need to take the available ones online at Harvard Online Learning, Coursera etc. With an incredible amount of opportunities, especially in the coming years, health law would remain relevant because everyone has to touch the health care system at some point in their lives.
2. INTELLECTUAL PROPERTY
The growth in this area of practice is set to continue because as long as invention and innovation exist, IP lawyers will be needed to procure the rights to new ideas and protect the ownership of existing creations. Even as recession affects other law practices; intellectual property law typically continues to thrive because people do not stop imagining. This is truer in Nigeria as more people are getting interested in keeping their creations and reaping the benefits of having others enjoy these innovations. 2020 is a good time as any for you to position yourself as an IP expert in Nigeria.
What are some of the important steps you may need to take? Firstly, you may need to understudy some of the IP lawyers in Nigeria. You can do this by following them on Social Media and possibly seeking learning opportunities with them. Alternatively, you can attach yourself to a law firm that specialises in IP law as one of its practice areas. Next, you want to get more knowledge by reading and taking courses on Intellectual Property. You would also want to join some of the bodies or groups involved in IP matters locally and globally. Some of them include WIPO (they offer online courses), CIP and International Technology Law Association. Finally, you should go-ahead to share your knowledge with the world on Social Media and other learning platforms. To be a part of our learning platform and share your videos and content online, send us a mail here.
3. TAX LAW
As a lawyer, you can also look into this practice area to help provide tax advice to expatriate workers, as well as individual and family clients in the area of personal income tax. You can help clients to ensure that they effectively manage and resolve the various tax challenges that they face. Tax law is complex and still evolving, so it is an exciting practice area to enter. You can help guide people through audits and other issues with the FIRS, as well as with estate planning. Following the passing into law of the Finance Act this year, many use cases have arisen for the citizenry. What this means for the smart Nigerian lawyer is that there will be a surging clientele of SMEs and MSMEs, as well as individuals, who will be needing Advisory services and Representation in handling their finances. What better time to create a niche for yourself than now?
4. BLOCKCHAIN & CRYPTOCURRENCY
You can jump on this legal practice area as Cryptocurrency in Nigeria is a major offshoot. Many non-lawyer businessmen are making a killing in the area of business. And where there is human interaction, there is bound to be conflict and opportunities.  To be able to navigate this practice area, it is important to learn about related concepts and areas like blockchain, smart contracts and ICOs. Lawyers that recognize the disruptive potential of blockchain technology early, possess a significant first-mover advantage.  To do better in the area of practice try to be in the business of attending industrial technology conferences and workshops. Here is a list of some that are coming up soon.  They will expose you to the basics of blockchain and smart contract technology, especially blockchain! Jumping on this area is a must now because none of the other techs has their ability or enablement for transfer of value across borders.
5. ME TOO MOVEMENT
No matter how easy this practice area might seem or how inconsequential, it is still a major area of interest for smart lawyers in 2020. It made our hot cake list following the European Union campaign, in partnership with the British Council; the launch of the 'Her Story Our Story Nigeria' campaign in Nigeria. The campaign seeks to end all form of sexual harassment in the country. Riding on the growing Gender Equality movement and the ensuing debates, you may want to look into the legal practice opportunities available for you as this topic is a sensitive one in modern-day Nigerian society.
6. SPORT AND ENTERTAINMENT
This area of practice includes contract negotiations and disputes, IP law, compensation and royalties, and more. You can look into this practise area to work for big-name celebrities, record labels and brand management. Sport and entertainment is an area of practise that is still growing with millions of opportunities in it. Whether working with individual entertainers, artists, producers, production companies, sports personalities, coaches or agents on their career path, you need the requisite experience required to strategically advise and handle matters on various legal considerations involved in sports and entertainment industries. A simple how-to is contained in 2. INTELLECTUAL PROPERTY above.
7. ELDER LAW
This area of practice looks at the means of advocating and protecting the rights and wellbeing of older adults, many of whom have complicated medical issues. This area of law may also interact with Healthcare and Family Law with key legal issues such as medical care, insurance, wills, end of life, trusts, guardianship and a range of other issues. Lawyers can look into this practise area because no matter how educated an older person is, he/she would always need the help of a lawyer to help with their wills, trusts, arrangements for care, social security and retirement benefits (Like Pension)
9. CYBERSECURITY LAW
As digital transformation begins to spread in the corporate sector, more companies are getting online every day. What is more, they are bringing a lot of their data online through cloud computing and management systems. What many are realising quickly is that this means they are more open to threats – cyber threats and attacks. Therefore, companies are now open to the idea of protecting their information system or information that is stored on, processed by, or transmitted on an information system from cybersecurity threats or security vulnerabilities. As a cybersecurity lawyer, you can work either as a litigator or an advisor cum consultant. To become one, you will need to take the necessary IT training. This can be by enrolling in IT courses online and offline and also getting the IT certifications. Check out a list of some of them here.
It is our hope that all this information can help you set the ball rolling for a better year in your career.