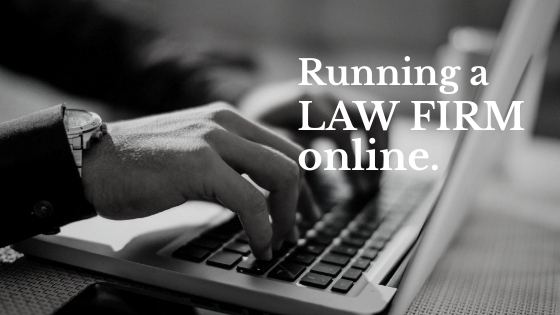 1
Running a Law Firm Online in Nigeria
1422 views
A virtual law firm is no different or less professional than a law firm with a physical address. The basic difference is that the later isn't necessarily paying rent or as much operational/personnel fees as the former, and so focuses its expenditure on its day-to-day process and the digital tools that make those processes run smoothly, including having the ability to offer more clients services.
And in this digital age where communication has been faster, more efficient and seamless, there's no better time than now for many legal services to move much of their operations online. The major requirement to fulfilling this is deploying a secure portal that is accessible to the lawyer and client, and both parties are able to access it anywhere in the world, and at anytime.
The 2014 ABA Legal Technology Survey Report showed that as at 2014, 7% of lawyers across America maintained a fully virtual law firm. That population has since grown in leaps and bounds across the world with the availability of efficient technology tools that help brand and client communication seamless, make legal research easy, make drafting and publishing fast, and even empower the public with very useful legal information per time.
In Nigeria today, many business legal services already run without a face-to-face meeting with any lawyer. Business registration services, Trademark filing, Contracts, and much more run at least 60% of the time through communication channels like Websites, E-mail, WhatsApp, etc.
In fact, with the advent of tools like LawPavilion's Solicitors' Toolkit, lawyers can develop contractual documents for clients within a matter of minutes. Lawyers can also use video platforms to conduct Q&A sessions and provide legal counseling to clients.
Your fear may be that 'Clients won't take you seriously if you don't have an office space', but that's increasingly becoming untrue. We spoke to a number of lawyers and discovered that many of them have offered up to 6-figure legal services without meeting the client face-to-face.
We were told though, that to be successful in the digital space (and like every other space), professionalism, integrity and efficiency can never be toyed with. If you are running a virtual shop there may be expectations from the client that you operate 24/7, that your social media handles are responsive in a timely fashion and that you're able to adapt to varying demands than a traditional firm would.
However, if you must use a physical address at any point, there are few alternatives to pursue:
1. Shared workspaces that you can pay daily or a small monthly fee to work from.
2. Young lawyers can collaborate and form associate-ships as opposed business partnerships.
To effectively offer a seamless service online, you will need some of the following:
Document Sharing through Google Drive, DropBox, etc
Use Messaging or Communication (Real-time Client Consultations) through Hangout, Messenger, Slack, Whatsapp, etc
Allow Invoicing and Bill Payment through Paystack, Rave, etc
Permit Calendar Access through Google Calendar, etc
Research Case Updates through LawPavilion PRIME
Include the Ability to Prepare Documents Using Fillable Forms through LawPavilion Solicitors' Toolkit
If you're not already offering these types of services online, why not get started?
Running a virtual law firm isn't just about making life easier for you as a Lawyer. A true virtual law firm makes managing a law practice easier by giving clients and lawyers more options, and more tools, in more places.