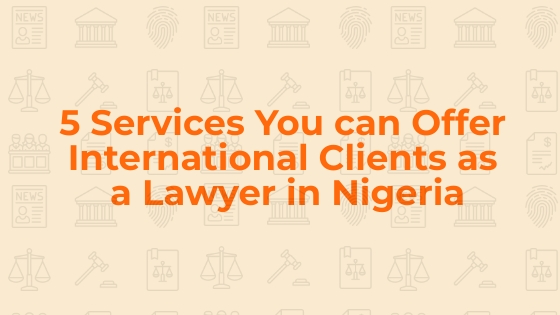 9
5 Services You can Offer International Clients as a Lawyer in Nigeria
1541 views
The increasing internet penetration around the world has made the world more open in time and space. 20 years ago, it was difficult to imagine that you could fully coordinate a cross-border partnership on behalf of your client, but today, you can also go as far as initiating smart contracts using block-chain technology.
Today, a teacher in Nigeria can create videos teaching Mathematics, post those videos online and get people to pay for each lesson from anywhere in the world. Many Programmers in Nigeria are actively working with companies like Google, Facebook and Microsoft (as remote staff) from the crevices of Yaba, Lagos. Artists are also creating designs and other creative work for Ad agencies across Europe. The list is endless as technology continues to radically penetrate industries across the world.
So, how can you join in on this wave as a Lawyer? Well, we have listed a few services you can offer, and how to go about offering them below:
– Trademark and Provisional Application for Patent: There are many companies or entrepreneurs hoping to open shop in other countries, or at least extend some of their services there and need the help of a Lawyer to guide them through the legal requirements of the process. Services like Trademark and Patent Application are therefore important to these class of people, particularly those who must retain their brand identity.
So you can become the plug for persons looking at the Nigerian or other African markets.
– Privacy Policy, Terms of Use and Appeal Letters: You must have seen some pages with some of these titles online, and they are mostly drafted by Lawyers. For news, information and digital services outlets in Nigeria and beyond, you can offer to help them draft a well-structured Policy or Terms of Use page. For creators or Artists who also upload their work online, you can provide some legal documents (e.g GDPR compliance for those offering services to Europe, Appeal letters for Copyright strikes, etc) that protect their craft or protect them from penalties online.
– Legal Research: One of the privileges you have is domain expertise; you most likely know your geographical and neighbouring domain more than anyone outside it. So you can offer some help to persons or organizations seeking some knowledge of that domain. Expanding businesses, Diplomats, Expatriates and Immigrants can use your knowledge and pay you further to get them more information.
– Investigation, liaison and Accountability Service: Have you thought about providing legal services to the Nigerian diaspora? Many Nigerian immigrants in various European and American countries send money home all the time for one project or the other to be fulfilled on their behalf. Unfortunately, there have been too many cases of fraud and mismanagement within this traditional process. So what if you position yourself to be the accountability officer in the mix? You will not only help monitor their project, but you will also ensure that all legal requirements are fulfilled to the letter.
– Franchise Agreement: For brands hoping to extend to and from Nigeria, you can easily be the legal practitioner that facilitates the agreement and compliance process.
Other services you can offer include:
Articles of Incorporation
Operating Agreements
Bylaws
Partnership Agreements
Contract Drafting
Alternative Dispute Resolution
Shareholder Agreements
Purchase and Sales Business Agreements and Leases
Employment and Independent Contractor Agreements
Letters of Intent
Supplier Agreements
Confidentiality
Non-Disclosure
Non-competition and Commercial Agreements
Disclaimers and Releases
Representation Contracts
What do you think of the above suggestions? We'd love your comments below or on our social media handles @LawPavilion everywhere.