REFLECTIONS, Volume 2, March 12th – 18th 2021
A WEEKLY ROUNDUP OF LEGAL & TECH EVENTS GLOBALLY | Volume 3, March 12th – 18th 2021
THIS IS REFLECTIONS, our weekly roundup of events in the legal and technology sector, covering various topics and interesting learning points for today's professional. If you couldn't make an event, don't worry, we probably made it and have all the juicy scoop for your reading pleasure and learning.
Do you have an upcoming event you would like us to know about or attend? OR do you know of one you would like to read about? Send an email to us HERE.
EVENT ONE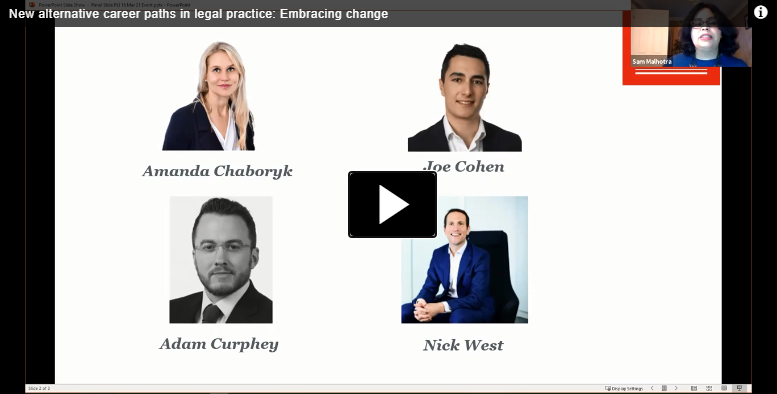 NEW ALTERNATIVE CAREER PATHS IN LEGAL PRACTICE: EMBRACING CHANGE
DATE: 16/03/2021 | MODERATOR: SAM MALHOTRA | PANELISTS: AMANDA CHARBORYK, JOE COHEN, ADAM CURPHEY, NICK WEST
The webinar sought to enlighten us on the new alternative career path for the traditional lawyer.
The panelist all talked about these new career path lawyers have been taking on lately and how they go about it. They went ahead and said that lawyers can do a lot of things and in different areas or sphere of life or career. Lawyers are realizing they can do a lot of things that do not have to do with legal services.
Did these new career path arise because of legal technology?
All the panelist answered in the negative that the major reason for this rise in different career path was because of the changing demand of clients on law firms, the desire for more and encompassing services offered by a single law firm rather than legal technology.
What caused these changes in career path?
Clients wanting more from their lawyers or law firm.
Law firms wanting to do more or over more services in order to earn more and meet the demands of changing times.
Taking opportunities that come up.
Current structure of the legal industry.
Professionalism
The lawyers had the right attitude to change.
research
Learning/lessons from the event
1. Learning human skills is important when moving to a new career path.
2. Lawyers should have the right attitude to changes happening around the legal space as well as the business of technology.
3. Lawyers should be able to do research in any new career path and go for necessary trainings and certification.
4. Lawyers should find other things that interests them apart from legal services.
5. Lawyers should always be on the look out for new opportunities in which they can improve the services they offer.
EVENT TWO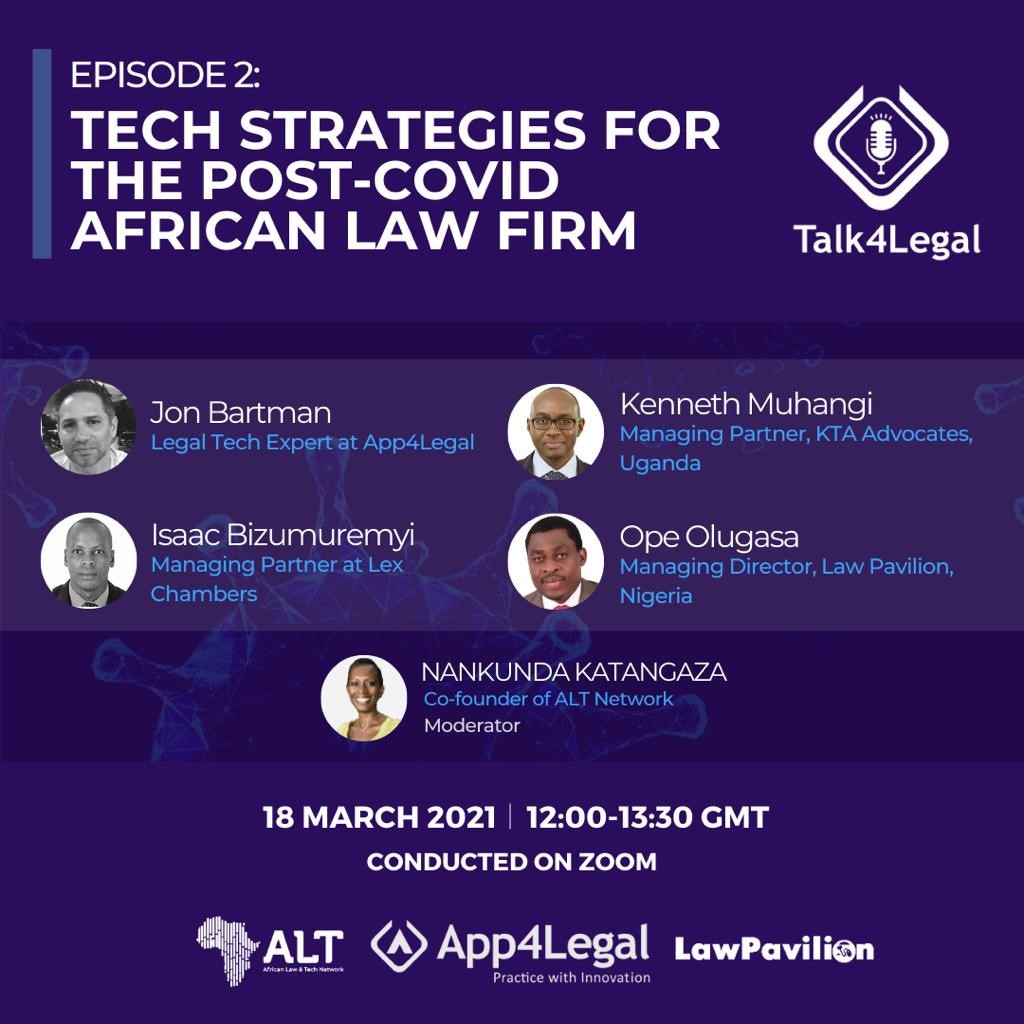 TECH STRATEGIES FOR THE POST-COVID AFRICAN LAW FIRM
DATE: 16/03/2021 | MODERATOR: NANKUNDA KATANGAZA | PANELISTS: JON BARTMAN, OPE OLUGASA, KENNETH MUHANGI, ISAAC BIZUMUREMYI
The COVID-19 pandemic redefined how the law practice is run especially in Africa in 2020, there was a need for the law firms and even the judiciary to employ technology to continue running, the aim of this webinar is to discuss how much impact technology had on law practice and the future.
Nankunda Katangaza, the Co-founder of ALT Network and moderator of the event, introduced the panelists, Jon Bartman, Legal Tech Expert at App4Legal, Kenneth Muhangi, Managing Partner, KTA Advocates, Uganda, Isaac Bizumuremyi, Managing Partner at Lex Chambers, and Ope Olugasa, Managing Director, LawPavilion Business Solutions, Nigeria.
SPEAKERS:
Jon Bartman
Law firms should employ technology as a tool to work easier.
App4Legal contains a client portal where lawyers can collaborate with their clients; it is also good for task management. App4Legal is to ensure law firms are more organized and efficient.
Isaac Bizumuremyi
Technology will enhance efficiency and reduce workload. All other participants in the justice sector must be on the same page.
Even after COVID 19, law firms will go more digital; technology will help to reduce cost and space, law firms will hire virtual associates from all over the world.
On Impact of digitization on clients, Isaac pointed out that only a few clients have been able to use App4Legal, most clients are used to the traditional ways of doing things.
Kenneth Muhangi
The use of technology today is mandatory for law firms. Technology has also been employed in Uganda in the Judiciary.
Culture is still a very big issue; tech has brought a lot of innovation, therefore there is a lot of sensitization to be done that will allow easier and faster law practice.
Ope Olugasa
The mindset of lawyers is one of the barriers that have prevented lawyers from adopting legal tech; most lawyers are still comfortable with the traditional ways of doing things. Cost has also been another barrier.
LawPavilion recently introduced Law Reports on WhatsApp, this is a faster way to conduct research that also reduces cost.
Will courts in West Africa adopt remote hearing? Some courts are already looking at the side of remote hearing, however, there are infrastructural deficiencies that have not encouraged remote hearing in Africa.
Learning/lessons from the event
The Law practice and the Judiciary have seen more need to use technology due to the COVID 19 pandemic, and actually technology has been employed more in the last one year
After COVID 19, the impact of technology wills still be left behind, there will be more competition and law firms will be forced to adopt new technologies or else they will be left behind.
EVENT THREE

ACCESS TO JUSTICE IN ARBITRATION: CONCEPT, CONTEXT AND PRACTICE
DATE: SPEAKERS: 18/03/2021| HENDRIK PUSCHMAN, AMY SCHMITZ, MIREZE PHILIPPE, LAURENT PECH
The discussion was based on the new book on Access to Justice in Arbitration. According to one of the contributors of the book, Leonardo de Oliveira, some people say that access to justice is not a new concept. Arbitration has existed for a while extending from a commercial and social aspect. This extension of arbitration might however be misused to take people away from proper access to justice. He stated that Alternative Dispute Resolution (ADR) was predicted in the 70s and became a reality in the 80s. The book is a combination between the academics and practice.
SPEAKERS:
Hendrik Puschman
Summary of Presentation: Arbitration as a concept of access to justice is one of the most unresearched areas of law and arbitration. The book might play a role in challenges against the present arbitration system and hopefully it puts this topic on the map. Presently, he opined that arbitration is something of a dictatorship and not a democracy. People are being forced to partake in arbitration without their consent and without even knowing the name of the arbitrator.
Amy Schmitz
Summary of Presentation: Normative function of arbitration is that it ought to be a problem-solving mechanism and not a problem-causing mechanism. The book challenges the assumption that arbitration is a bad concept. Despite its present disadvantages, it is a problem-solving mechanism that does expand access to justice. Currently, technology has been introduced into the picture and the practice of online arbitration increasingly becoming popular. A downside to this is that online arbitration has now being brought into the courts to clear backlogs and this begs the question if this process is merely used for efficiency instead of fairness.
Mireze Philippe
Summary of Presentation: People need to learn about the other types of alternative dispute resolution such as negotiation, mediation, adjudication etc. and use it. People must also be educated and given the familiarity to use the available platforms. In the 21st century, online justice must be available.
Laurent Pech
Summary of Presentation: Access to justice is a constitutional right and as a judge whether it is an online procedure or not, the rule of law must be considered. For example, ensuring equality between the parties amongst others.
Learning/lessons from the event
1. The book widely discusses the advantages and disadvantages or arbitration, whether it ensures access to justice. It also shed some light on the existence of online arbitration in the commercial sector and its subsequent introduction into the courts to reduce backlogs rather than ensuring fairness. The most interesting thing noted from this discussion is that in some countries, arbitration is currently more of a dictatorship than a democracy as people are being forced to partake in arbitration without their consent.