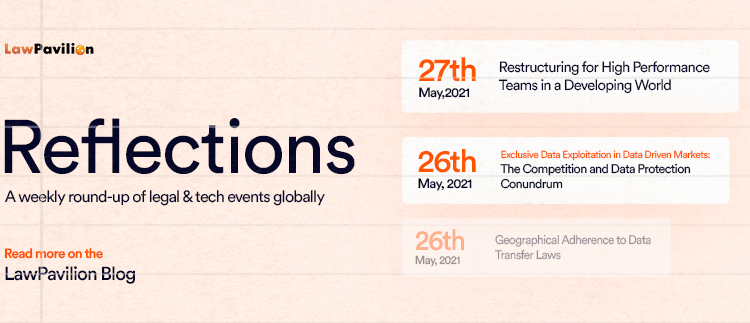 REFLECTIONS, May 21st – May 27th, 2021
A WEEKLY ROUNDUP OF LEGAL & TECH EVENTS GLOBALLY | May 21st – May 27th, 2021
THIS IS REFLECTIONS, our weekly roundup of events in the legal and technology sector, covering various topics and interesting learning points for today's professional. If you couldn't make an event, don't worry, we probably made it and have all the juicy scoop for your reading pleasure and learning.
Do you have an upcoming event you would like us to know about or attend? OR do you know of one you would like to read about? Send an email to us HERE.
EVENT ONE
RESTRUCTURING FOR HIGH PERFORMANCE TEAMS IN A DEVELOPING WORLD
The speaker, Konyin Ajayi SAN, the Managing Partner of Olaniwun Ajayi LP, started by discussing the importance of restructuring in developing countries. He stated that restructuring is important in developing countries, particularly Nigeria because of the tremendous pressures being faced today. He believes the country has a general negative balance sheet that makes things difficult. According to research, 1 in 3 people currently living in Nigeria have plans to relocate to other developed countries. He stated that that every human being goes through the process of restructuring and the only people who do not restructure are 'the dead'.
He opined that restructuring is suitable for a failed business, an average business and a successful business. Individuals live in an age of constant disruptions. It is important for sustainability to enable a business survive for the future. A business needs to restructure in order to capture the advantages presented by the business market. The speaker used his firm as a case study. According to him, the firm was deliberate about restructuring. It had diversity in its leadership, that is, not made up of "old men and partners" but anyone that can make valuable contributions to the company. This includes a youth corpers and junior staff. Over the years, the firm has restructured its websites and working hours due to the suggestions of younger staff.
The speaker stated that 80% of the current population are persons less than the age of 40. The nature and dynamics of business is changing. As such, the firm effected the "work from home" (remote work) policy for the covid-19 lockdown. The firm had also invested in technology early on in its business. Where a business has a limited budget, it needs to take note of the following points while attempting to restructure: (a) Be clear with one's goal (what must be done to restructure, what type of investment must be made). A working environment which enables employees flourish must be created. The effect of mental pressures must be considered, workers ought to take advantage of what technology has to offer. A smaller office can be maintained or a change in location to reduce rent cost since not all employees will be required to be physically present at work. (b) Have a 360-degree view of the work force. There must be a focus on the people to be served. Work must be collaborative to reduce cost. A start up business can get accessible software to assist in running the business. Young persons can set up an HR company to find out the needs, characters and resources of employees. Mentors are also needed.
Speaking on the mental impact of restructuring, he opined that in today's realities, there are not many mental health professionals in the country. There is also a stigma around the discussion of mental health issues. Individuals are therefore advised to get access to a professional mental health coach. Those who do not have access to this should be conscious that the body as a human machine needs rest. A balance must be stuck between work and rest. Individuals should be efficient in their jobs so as to create more time for themselves. After work, he/she must do things that are beneficial and not aggravate this issue further. Employers must also be conscious to reduce employees' mental stress.
Since the reality is that not all jobs can be done remotely, there is a need to look at ways to enhance individual's lives to improve productivity even while physically present at the office. There are certain characteristics a business owner needs for high-performance teams particularly in a vital world. In today's fast-paced world, skills, dexterity, speed, precision and risk-taking characteristics are needed. The speaker finally stated that every business has an impact. As such, business owners and managers must constantly think of ways to improve the business, innovate and drive change.
Learning/lessons from the event
1. This event brought to light the important fact that restructuring is of utmost importance and is needed whether a company is successful or not, to enable it meet up with the constant disruptions.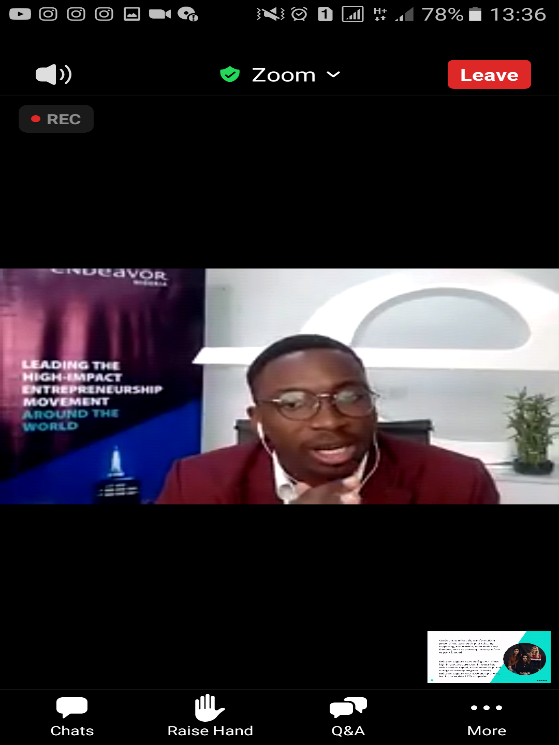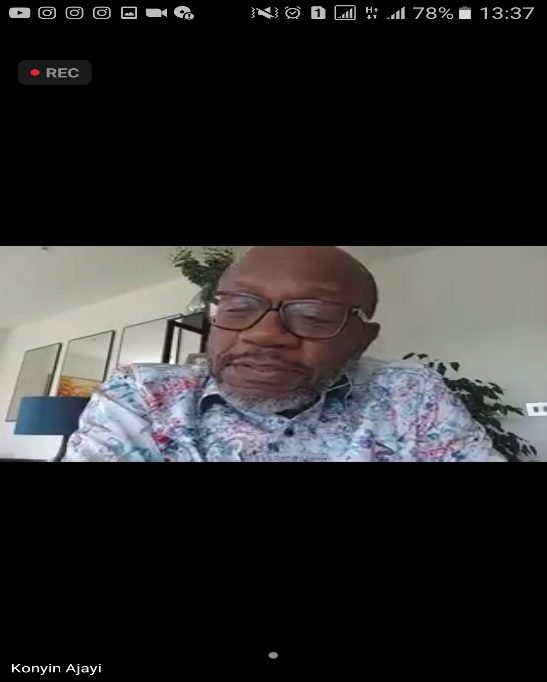 EVENT TWO
TOPIC: EXCLUSIVE DATA EXPLOITATION IN DATA DRIVEN MARKETS: THE COMPETITION AND DATA PROTECTION CONUNDRUM
SPEAKERS: FOLABI ESAN, DARA UBIA AND CHUKWUYERE IZUOGU
The webinar kicked off with the moderator, Oyeniyi Immanuel, welcoming participants and introducing the panellists and what they would be discussing and posed some open-ended questions. The panellists for the webinar were Folabi Esan, Partner Adlevo Capital, Dara- Agnes Ubia, Data privacy solicitor, Axiom Law, and Chukwuyere Izuogu, Senior Associate, Streamsowers & John.
Folabi Esan
Mr Esan started off the discourse by highlighting the value of companies operating data driven markets like Google, apple, Netflix, Amazon, tiktok, Facebook, uber etc and stressed that the value first 3 on the list together, is more than the Gross Domestic Product of Africa. He said that there is much data available and being created/ generated even faster than can be stored.
He compared currently mode of generating and storing data against if same were on paper and the quantity of paper is really massive. Data is the new oil, he said and that everything is now being run on it even in this digital age.
He however stressed that data generation of itself is not necessarily valuable but only becomes valuable when analysed and cross referenced. He gave example of adding such value with what linkedin, Google Amazon and so on does. As the saying goes, if you don't know the product you are the product. He said the more you use the services of such big data companies which generates and uses data, the better it becomes and the more it is able to monetize, even the searches. He said few people really understand how their data is being used on online activities especially the use of cookies. He gave three case studies of how the data gathering by these companies go through the processes that it becomes more useful for both the company and the end user (the one whom the data was gotten from.). The case studies are: e-commerce online platform, online social network service platform and online search platform.
He went to define data driven market as one where the cost of quality production is decreasing in the amount of machine generated data about user preferences or characteristics which is inseparable by product of using services offered in such market and what exclusive data exploitation means.
He also talked about the 6 disruptive models that data and analytics fuel that change the nature of competition to include massive data integration, hyperscale real time matching, enhanced decision making, orthogonal data sets, radical personalization and data driven discovery and innovation. He went on to give case studies; data protection and competition law of Facebook and Facebook vs Apple stories.
As regards the conundrum, he noted that there is tension around the world between data protection laws and data protection regulations on whom to govern data and how; whether competition law should be used to address privacy concerns and what should be the basis for enforcing breaches, that is the economic value of personal data and underlying protection of human right. He concluded that there is real and growing data divide and gaps across the value chain, hence appropriate laws and policies are indispensable.
Dara Ubia
She started off with the significance of data as an economic asset, a necessary input of production, fuel in the digital economy, raw material for digital model businesses and a currency for free services.
She then classified personal data types into volunteered data(gotten from online forms etc), observed data( gotten from search, shopping and browsing history) and inferred data( gotten from lifestyle, habits).
On Nigeria's data protection framework, she said laws that exist in that regard include the 1999 Constitution (fundamental right section), Data Protection Bill, 2019, Data Protection Regulation, Data Protection Regulation 2019 Implementation framework, amongst others.
On data protection remedies promoting competition law objectives, she said it's available to only individuals, have little effect on network industries, interoperability on platforms and that the scope is restricted to only volunteered data and technical feasibility. She further noted that it impacts on duty of care, accountability and lawfulness. She concluded that data is not the new oil, trust is and that the aim and essence of data protection laws is for the individuals not the company or businesses
Chukwuyere Izuogu
He spoke on the interplay between data protection and competition. He said firms now compete on the basis of privacy Protection. Access to data solidifies market power but consent should be priotized. He examined exclusionary and exploitative angles to it.
Conclusion
There was question and answer session where questions ranging from panelists opinions on the recent WhatsApp privacy update, whether data protection serve) help businesses, whether it's serves as a weapon for small business owners were all answered.
Learning/ lessons from the event
It was an insightful webinar where the need to be careful on how and what we share as data even online in whatever guise. LawPavilion too as a company that gathers data in the course of selling its product to her numerous clients should also ensure that the data are protected and used within the bounds of the purpose for which it was obtained.
EVENT THREE
A REPORT ON WEBINAR ORGANISED BY WOMEN IN CYBERSECURITY (WiCyS)
GEOGRAPHICAL ADHERENCE TO DATA TRANSFER LAWS
SPEAKERS: SARAH RUGNETTA AND JORDAN FISCHER
The speakers, SARAH RUGNETTA and JORDAN FISCHER shared on the topic extensively. They started by saying that there are two major data transfer laws in the U.K which are: GDPR AND HIPAA
GDPR is a regulation that requires businesses to protect the personal data and privacy of EU citizens for transactions that occur within EU member states.
HIPAA, Health Insurance Portability and Accountability Act of 1996 is a privacy rule standard that addresses the use and disclosure of individuals' health information (known as "protected health information") by entities subject to the privacy rule. These individuals and organizations are called "covered entities." The privacy rule also contains standards for individuals' rights to understand and control how their health information is used.
The speakers then went ahead to compare what obtains under GDPR with that of HIPAA
| | | | |
| --- | --- | --- | --- |
| | | GDPR | HIPAA |
| 1 | CONTRACTUAL AGREEMENT | DATA PROCESSING AGREEMENT | BUSINESS ASSOCIATE AGREEMENT |
| 2 | CONSENT/ AUTHORISATION | REQUIRES EXPLICIT CONSENT FROM DATA SUBJECT | DOES NOT REQUIRE CONSENT |
| 3 | USE AND DISCLOSURE TO PROTECT VITAL INTERESTS | PERMITS PROCESSING SENSITIVE PERSONAL INFORMATION | REQUIRED AND PERMISSIBLE RULES ARE OUTLINED IN THE HIPAA PRIVACY RULE |
| 4 | DATA BREACH RERPORTING TIME | WITHIN 72 HOURS TO THE SUPERVISORY AUTHORITY | AS SOON AS REASONABLY POSSIBLE AND WITHIN 60 DAYS OF DISCOVERY |
| 5 | DATA BREACH ANALYSIS | LIKELY TO RESULT IN A HIGH RISJ TO THE PRIVACY OF THE INDIVIDUAL | PRESUMPTION OF REPORTING THAT CAN BE OVERCOME WITH RIUSK OF HARM ANALYSIS |
| 6 | INDIVIDUAL RIGHTS AND DATA SUBJECT REQUEST | RIGHT TO DELETE, ACCESS, RECTIFY, RESTRICT AND WITHDRAWE CONSENT WITH SOME LIMITATION | RIGHT TO ACCESS, AMEND, RECEIVE AN ACCOUNTING OF DISCLOSURES AND REQUEST RESTRICTIONS ON DISCLOSURE/USE |
| 7 | INDIVIDUAL RIGHTYS AND DATA SUBJECT REQUEST | PROCESSOR TO REPORT TO CONTROLLER | BUSINESS ASSOCIATE TO COVERED ENTITY |
The speaker concluded the session with a brief question and answer segment where further clarifications were made to all the above-discussed points.