REFLECTIONS- JUNE 4, 2021
A WEEKLY ROUNDUP OF LEGAL & TECH EVENTS GLOBALLY | June 4, 2021
THIS IS REFLECTIONS, our weekly roundup of events in the legal and technology sector, covering various topics and interesting learning points for today's professional. If you couldn't make an event, don't worry, we probably made it and have all the juicy scoop for your reading pleasure and learning.
Do you have an upcoming event you would like us to know about or attend? OR do you know of one you would like to read about? Send an email to us HERE.
A REPORT ON THE WEBINAR ORGANISED BY THE LEGALLY ENGAGED MENTORSHIP PROGRAMME
"THE JAPA SERIES"- SERIES 2
TOPIC: HOW TO RELOCATE AND SUCCEED ABROAD
PANELISTS
Mariam Momodu, Doctoral Candidate, University of Toronto, Canada
Magnus Amudi, Managing Attorney, Amudi Law, LLC, (New York)
YuliAdagun, Lawyer Clifford Chance LLP (London)
INTRODUCTION
The webinar began at 6:00pm with the moderator introducing the panelists and giving a brief description of their legal journey. Mariam Momodu was a graduate of University of Ibadan, Magnus Amudi was a graduate of Enugu State University of Science and Technology while YuliAdagun had her undergraduate studies at the University of Kent before coming back to Nigeria to qualify as a lawyer.
PANEL DISCUSSIONS
The webinar was driven by the questions put forward by the attendees to the panelists.
The questions revolved around the role of LLM to access global opportunities, getting access to LLM scholarships and how to build networks.
Magnus advised that it was important for Nigerian lawyers looking to break into the international market to do their research on schools, be creative and be good enough to get into the top tier schools.
For Yuli, to succeed in the UK, it was important that a lawyer had to be excellent in their home market such that when you present yourself, you present value to your prospective employer. The choice of school also mattered as the network you build and contacts you make go a long a way in opening doors of opportunity. Yuli also noted that it is also important to be deliberate about reaching out to people.
Mariam noted that it didn't really matter the size of the law firm or law school a person was coming from but how well a lawyer has done in the place they are coming from and how well the resources at your disposal was utilized. For Mariam, it was important that a lawyer demonstrates their value and how resourceful they are. Nothing is handed to you.
CONCLUSION
The panelists were in agreement on the following strategies: identifying with people on the same journey and being on their radar, being more outspoken, assertive and deliberate, joining groups and societies, networking and connecting with people, being focused and choosing your path with conviction and most importantly being excellent at what you do and bringing value to the table.
The webinar came to a close at about 7:15 pm
A report of webinar titled Dynamics for Business Succession and Exit Planning for Lawyers held on 02/06/2021
INTRODUCTION
The webinar started by 1:07pm. ChidinmaAgu, the anchor, introduced the panelists viz Miss Michele Chikezie and Mrs Olusola Ajibola. Miss Michele Chikezie had not joined the webinar as at the time it started, with the anchor explaining that she was having issues logging in. she was supposed to start as the first panelist but in her absence, Mrs Olusola Ajibola was asked to speak.
MAIN PRESENTATION
Mrs Olusola Ajibola divided the topic into 4 viz: the what, the why, the when and the how.
She started with the what, what is succession planning. On this, she stated that succession planning is:
The plan to transmit management and ownership of a law firm from one generation to another or from one set of owners to another while all are still there.
The plan to exit a law firm while alive and handover to another.
The plan for what happens to a law firm when the founder or managing partner dies.
The plan to shut down a law firm completely.
She stated that succession planning depends a lot on the size of the firm but it is as important for a small firm as it is for a big firm. She stated that however, most Nigerian law firms fall into the category of small firms.
Next, she spoke on the why, why succession planning? In this regard, she gave the following reasons for succession planning as follows:
To make sure things are in order in case of an unexpected occurrence like sudden death, amnesia, or any other condition that incapacitates the founder or managing partner.
To make sure clients matters, especially finances, are always in order so that things can go on seamlessly if and when you leave willingly or unwillingly.
To allow for a retirement plan or to focus on other things.
Moving on the next aspect of the topic, she spoke on the when, when to start succession planning. On this she stated that you can start succession planning early or late but that it is important to start with an end in mind and it is equally important to start succession planning now, regardless of the age of the lawyer or years at the bar. She stated that it is never too early or too late to start succession planning. Some lawyers choose to start succession planning the very day they start their law firms, while some others may choose to start a year before they retire. However, it is better to start early as the future is unpredictable.
She then moved on to the last aspect of the topic, the how, how to go about succession planning. On this, she gave a few tips as follows:
Have a written plan that you will share with somebody or that will be easily accessible in case of death or incapacity. The plan depends on many things including the what and why.
If your plan is for the law firm to continue after the death of the founder or managing partner, identify the next legs, that is, those that will succeed the founder or managing partner.
Prepare the next legs and let them know their positions. This includes preparing them to be responsible for management. Send them on courses and get them involved in management.
Have a written list of all client information and their matters.
Have a written list of all clients' funds in your client account.
Have a written list of all your important information including accounts, property, passwords, and so on.
Consider having a co-signatory to at least one account to start with which can be expanded with time.
She brought the session to an end. Miss Michele Chikezie was still absent so she proceeded to entertain some questions from the attendees.
One of the participants asked if there are any regulatory laws to take cognizance of when making a succession plan. She answered that there are no regulatory laws as such, but certain issues, especially the issue of tax, have to be taken into consideration and complied with.
The next question was what can be done if the firm is passed on and the successors go against the terms of succession. She answered that the owner may sue for breach of contract since the succession plan is a sort of contract, or the founder, where he has retained some controlling rights or shares in the firm, may exercise such control. However, the exercise of such control would only be possible if the founder is alive which underscores the importance of making and implementing a succession while alive.
The third question was what happens where the partners of a firm are unable to agree on any succession plan. She answered that they can resort to mediation, arbitration or even litigation since the partnership is in the nature of a contract. She however recommended mediation as the dispute resolution method to be adopted.
The fourth and final question was if the firm is too demanding, can a trustee take up the business with directions on how the business should be run and proceeds from it disbursed. She answered that she doesn't think that will be possible because a law firm can only be run by a lawyer. She suggested that if the firm is too demanding, it can rather be shut down or sold as a business with terms which both parties to the sale may agree on.
CONCLUSION
Having attended to all questions and in the absence of comments from participants and with Miss Michele Chikezie still absent, the webinar was brought to an end by 1:57pm.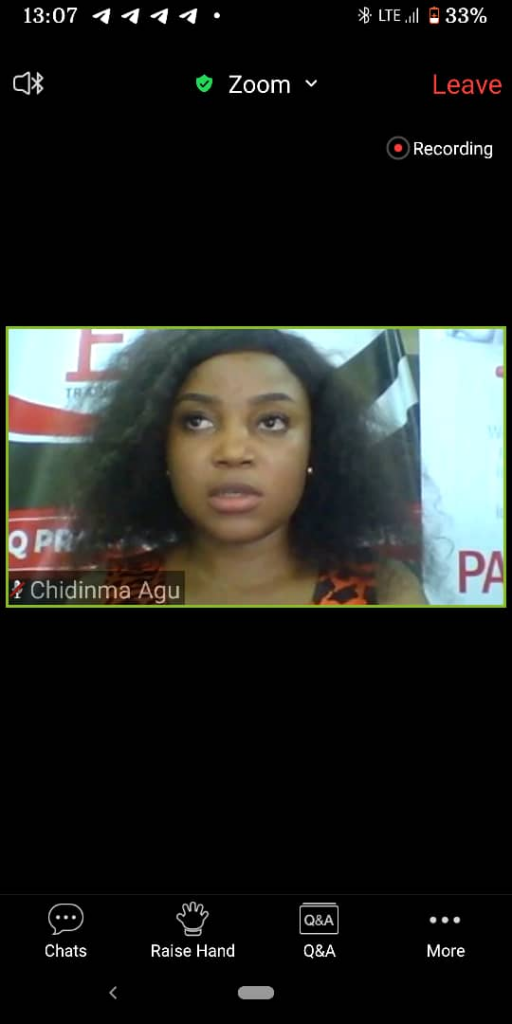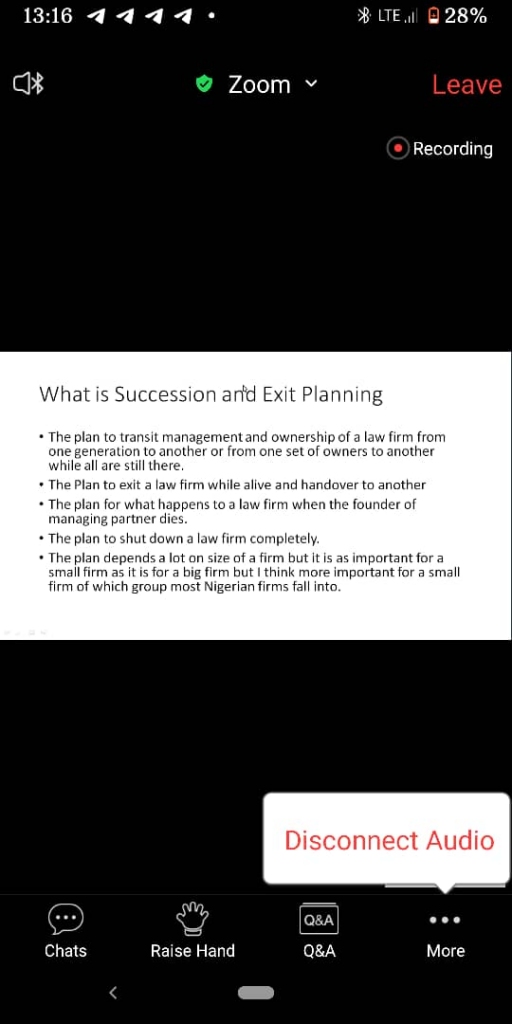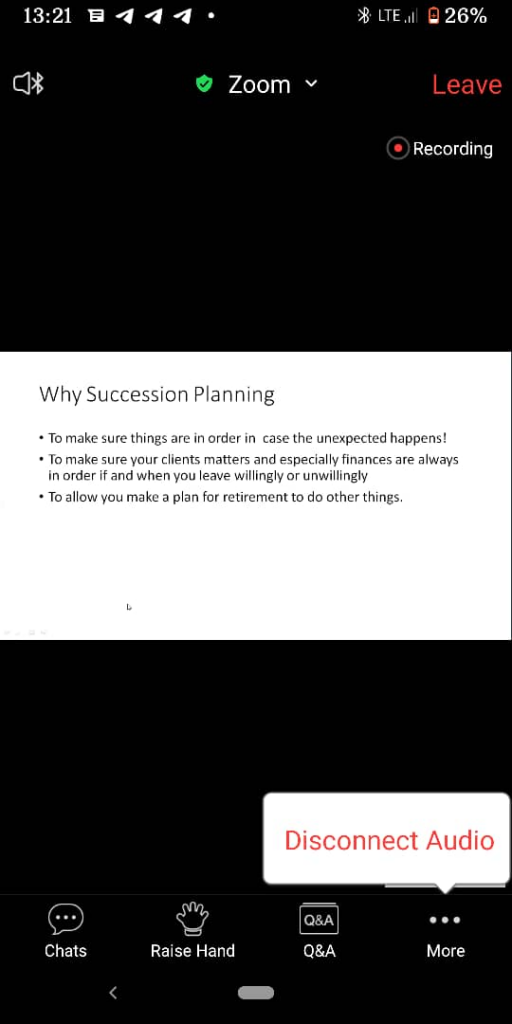 DRIVING AFRICA'S SUSTAINABLE DEVELOPMENT THROUGH THE AFRICAN CONTINENTAL FREE TRADE AGREEMENT.
25th May 2021
Dr MotunmisiTawana , Consul General of South Africa in the New York & Chair of the African Consuls General Forum in the New York and Dr David Luke, Coordinator of the African Trade Policy Centre of the United Nations Economic Commission did the welcome remarks. Dr Tawana mentioned that The Agreement will transform Africa to a large market of over 2 billion people and boost Inter-African trade.
The moderator, NadiraBayat, a gender and trade expert introduced the panelists, there were
Mr. Batanai Clemence Chikwene, the Program Manager for the African Trade Policy Centre at the Economic Commission for Africa.
Dr Francis Mangeni, senior fellow at the Nelson Mandela School of Public Governance and Advisor to the Secretary General of the African Continental Free Trade Area.
FlorizelleLiser, President and CEO, the Corporate Council on Africa.
Treasure Maphangna, the Director of Africa Electronic Trade Group
Lerato Mataboge, Deputy Director General Department of Trade, Industry and Competition(The DTIC) South Africa
-How is ACFTA an enabler of Sustainable Development?
Treasure Maphanga
Treasure Maphanga mentioned that the essence of the ACFTA Agreement is to ensure that Africa trade smoothly among them before trading with the rest of the world. It will breed industrialization, strengthen productive capacity ad partnership.
-How does the ACFTA Agreement fit into South Africa Development Policies?
Lerato Mataboge
Africa represents 17% of global population, whereas Africa contributes only 3 % to global trade. However there is limited infrastructure which has not allowed trade to thrive. South Africa has a strong drive to build infrastructure. There are also plans to aggregate production and value addition.
South Africa will play a key role and be a sustainable partner to other African countries.
-What is the significance of Rules of Origin?
Francis Mangeni
African needs to be strong together and pull resources together. There will be rules qualify a product to be produced in Africa. We want an ACFTA that is inclusive, transformational and fit for purpose.
-What do businesses need to do?
Batanai Clemence Chikwene
Businesses need to understand production requirements and regional value chain. They can start from the bottom.
FlorizelleLiser
ACFTA will improve the business space to pursue opportunities; it will make it easier to trade and invest. ACFTA will also address some of the reasons why foreign investors have not invested much in Africa; one is too many small markets.
Francis Mangeni
Pan African payments are to enable payments to be made in local currencies.