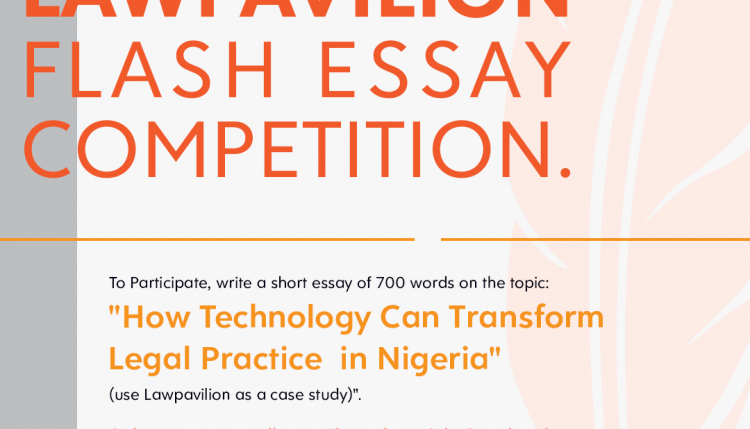 LAWPAVILION FLASH ESSAY COMPETITION – third prize winner
92 views
THIS ESSAY IS THE THIRD PRIZE WINNING ARTICLE IN THE LAWPAVILION FLASH ESSAY COMPETITION TO MARK THE 2019 INTERNATIONAL CUSTOMER SERVICE WEEK.
WRITER: NWEKE YVONNE C.O. ESQ.
TOPIC: HOW TECHNOLOGY CAN TRANSFORM LEGAL PRACTICE IN NIGERIA
(USING LAWPAVILION AS A CASE STUDY)
tempora mutantur, nos et mutamur in illis
(the times change; we also must change with the times)[1]
Few years ago, law practice was characterized by bulky brief cases filled with law books and case law reports and by robust law library with a copy of "annotations" sometimes, to assist with the search through compendium of law reports. This search was inevitable in other to argue, vehemently, on the law that best substantiates each Lawyer's client's case because the courts are guided by precedence. Years later came technological advancements which has been progressively embraced like the birth of a baby.
Technology refers to science or knowledge put into practical use to solve problems or invent useful tools[2]. While legal practice entails the application of laws; statutes and case laws, in all its attendant dimensions.
Today, Law practice with technology is like an epiphany that have been made integral to the attainment of justice by the enactment of the evidence Act in 2011, mandatory requirement of electronic filing and service of court processes in superior courts in Nigeria[3]. These have had the advantage of:
dispensing with the "need" to carry bulky briefcase of Law books and case law reports, which is made possible by legal software's like Law Pavilion and electronic Law library like; LEXISNEXIS etc. accessible to lawyers and non-lawyers
ease of retrieval devoid of the tedious process of wading through compendium of law books and reports in a law library, not to mention having to deal with the attendant wear and tear of such storage
dispenses the need for large storage space for law books and reports in a law office.
For me as a practicing lawyer, Law pavilion was my saving grace in arguing my application for an order of court striking out a notice of appeal for want of diligent prosecution, which successfully served as a nail on the coffin on the appeal and saved me from looking ineptitude before my clients and the hallowed Justices of the Court of Appeal, Ibadan, whose demeanors even when you are well prepared, can cause you to break a sweat while proactive in maintaining the deportment expected of a Lawyer.
Also, of interest is the story of an Ogun state Magistrate, Tosin Okikiolu who with the aid of technology, summarily heard and determine a criminal trial within two days. Which is an insight on what justice will be like with the proper utilization of technology, and in turn, earned him an award from the Chief Judge of Ogun State, Justice M.A. Dipeolu[4].
Although, these two circumstances illustrate technology as a tool for achieving justice as "Justice delayed is Justice denied", many members of the Bar and Bench remain "techno-phobic".  Nevertheless, technology is today, increasingly designed to tow Law practice in Nigeria away from excuses such as, lack of evidence, which is often the prosecutions tale in court gleaned by plethora of cases[5] which could have never been possible without technology. Hence, technology is concomitant with transformation of legal practice in Nigeria as have been exemplified by new frontiers of electronic revolution explored by courts. more so, most members of the Bench use Electronic Law report references in their judgments, which leaves no doubt that soon, legal practice may be fully automated for effective and efficient legal service delivery in Nigeria.
---
[1] The Face of Legal Research In The 21st century retrieved from http://www.nigerianlawguru.com/articles/general on 9th October, 2019
[2] Retrieved from https://www.yourdictionary.com/technology on 9th October 2019
[3] With the introduction of Legal E-mail by the supreme Court – https://www.nigerianbar.org.ng/index.php/legal-mail retrieved on 10th October, 2019; and even Lagos State High  Court Registry has an E-filing Section
[4] Retrieved from https://thenigerialawyer.com/true-magistrate-ogun-state-judiciary-awards-his-worship-tosin-okikiolu/ on 10th October 2019
[5] The legislator that slapped a woman in a sex toy shop -"Nigerian senator slaps woman inside Abuja sex toy shop" retrieved from https://www.pulse.ng/news/local/senator-abbo-slaps-woman-inside-abuja-sex-toy-shop/hk91kqm on 10th October 2019, lecturer that asked for sex in exchange for marks – "Nigeria lecturer suspended after BBC Africa Eye 'sex-for-grades' film" retrieved from https://www.bbc.com/news/world-africa-49971067 on 10th October 2019 etc.