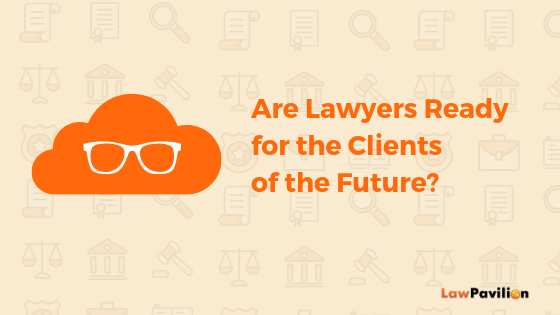 3
ARE LAWYERS READY FOR THE CLIENTS OF THE FUTURE?
644 views
The Client of the Future is a guest post submitted by Kelechi Achinonu Esq. (Lawyer and Software Developer).
Thanks to customer-centric companies like Uber and Amazon, we have learnt that as consumers, we can get anything we want for less delivered to our doorsteps, sometimes immediately, for free and this will only get worse, as customer experience evolves. So if consumers can get or order for any product—you name it—on their terms, how do you think that affects the thinking of clients about how they should get their legal services?
The customer is always right. Now, more so than ever, clients now believe that they can get whatever service they want. Therefore, even a demand for efficient and effective legal services for much less, on their own terms is not left out of the loop.
But the big question remains: ARE LAWYERS READY FOR THE CLIENTS OF THE FUTURE?
Let's look at the following patterns I believe Lawyers should take a second look at in preparing for the clients of the Future.
DEMAND FOR FREEMIUM SERVICES
Freemium (free services) is the new deal. Everyone loves freebies, and clients at the legal market place are not left out. We are having new sets of clients that want legal services for free or at least pay much less than what they're currently paying. I mean, "Who no like beta thing?".
Noticed the trend of lots of law firms today giving away a lot, providing a lot of free legal advice in the form of newsletters, seminars, webinars, etc??. They do this to attract new clients and keep the ones they have. Welcome to the new form of marketing, where lawyers and law firms would have to give so much to gain so much more, as we are all getting used to expecting more for less.
ON-DEMAND ACCESSIBILITY
Customers are getting used to getting their needs met at the snap of their fingers, thanks to technology, and the delivery of services from the legal marketplace is not left out. Clients would expect instant gratification, quick results and constant access. It can be seen as unfair to expect any lawyer (not a chatbot) to be on call 24/7, but clients will expect their law firms to do just that.
Working at an efficient and operational speed of business where the right answers are only a click away will distinguish top-performing law firms and lawyers from the others. Developing a reputation as a go-to firm which is always on call ready to answer a legal question on the click of a button will translate into more clients and more business.
BUSINESS PARTNERSHIP
Clients would not just want lawyers that they have to run to in times of trouble, they would want lawyers who they can see also as business partners. Lawyers who invest their time, energy and resources to learning their business, sharing their values, and pursuing their goals through their legal representation. They want lawyers who can help them envision obstacles and challenges that lie ahead and assist in charting a course to avoid them.
In conclusion, having new business models coupled with the effective deployment of technology can be seen as the key to innovation and the recipe for staying relevant in the legal business. Law firms will need to focus on delivering seamless and effortless client experience in accessing their legal services. Client-centricity is more than a buzz word. It would become the essence of legal services delivery in the future(Besides, that future is already here).
In the words of Oliver Wyman; "Value shifts to the business that moves the fastest and knows the customer the best".