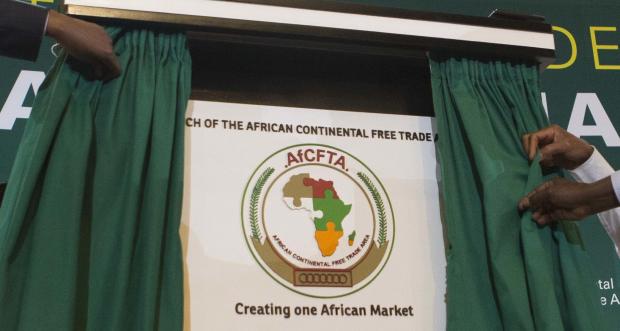 The African Continental Free Trade Agreement (AfCFTA): A Guide
We take a cursory look at the African Continental Free Trade Agreement through the simple guide prepared by Tralac – Trade Law Centre in South Africa. The AfCFTA Agreement is a trade agreement aimed at creating a single market followed by free movement and an African single-currency union.
The AfCFTA Agreement is a framework agreement covering Trade in Goods and Services, Investment, Intellectual Property Rights and Competition Policy. The Protocols on Trade in Goods, Trade in Services, Investment, Intellectual Property Rights, and Competition Policy, as well as Dispute Settlement, form an integral part of the Agreement. The Protocols on Trade in Goods and Trade in Services each have a number of Annexes covering substantive disciplines.
Trade in Goods and Trade in Services are being negotiated in Phase 1; with negotiations on a number of issues (e.g. tariff concessions, rules of origin for goods and schedules of specific commitments for services) still ongoing.
Phase 2 of the negotiations will cover Investment, Competition Policy and Intellectual Property Rights. Phase 2 negotiations and the draft texts of the Protocols on Investment, Competition Policy and Intellectual Property Rights are expected to be completed by January 2021.
The obvious questions about the Agreement still remain. Some of them were raised and discussed extensively at last year's Annual Business Law Conference of the Nigerian Bar Association Section on Business Law, including:
1. How will intra-African trade and development be financed?
2. Is free movement across Africa achievable?
3. How will trade dumping be curbed?
These envisaged challenges are beacons for legal practitioners in Nigeria, especially now that the country has signed the agreement and will begin to take steps to ratify same. It would only mean that it will no longer be enough to simply be a Nigerian lawyer. Legal practitioners now need to start looking at how to they can improve their skills, capacity, reach and knowledge base to reach the emerging market.
On skills, the question here is straightforward, do you have the necessary skills to service a whole continent? Traditional professional skills in legal practice like litigation will not be enough. A more advanced professional skill like Arbitration will be more suitable in this case. Nigerian legal practitioners need to embrace now, more than ever, global 21st century skills, e.g. Collaboration – in this case, cross-border collaboration alongside the skills they already possess.
On capacity, legal practitioners need to ask a critical question, how many clients can I service in the near future? With less than 100,000 legal practitioners in the country, mathematically, each legal practitioner would have to service over 2,000 people in Nigeria alone per time. Imagine serving businesses and people on a continental level. This means that expansion is now necessary for every legal practise service provider. Thankfully, technological tools are available to help fast-track expansion for legal practitioners, if more are open to using them. LawPavilion alone has 4 major tools/products within her A.I Suite – PRIME, STK, Case Manager and TIMI. LawPavilion PRIME is a legal research and analytical tool. LawPavilion STK (Solicitor's ToolKit) is a legal drafting and publishing tool for improving commercial practice. LawPavilion Case Management System is a legal process or workflow tool, while TIMI is an AI-empowered legal assistant.
Essentially, the legal sector is expanding especially for legal practitioners in Africa and Nigeria is at the forefront. The AfCFTA Agreement serves as a notable precursor to the changes that will happen.
Download the Tralac guide HERE.