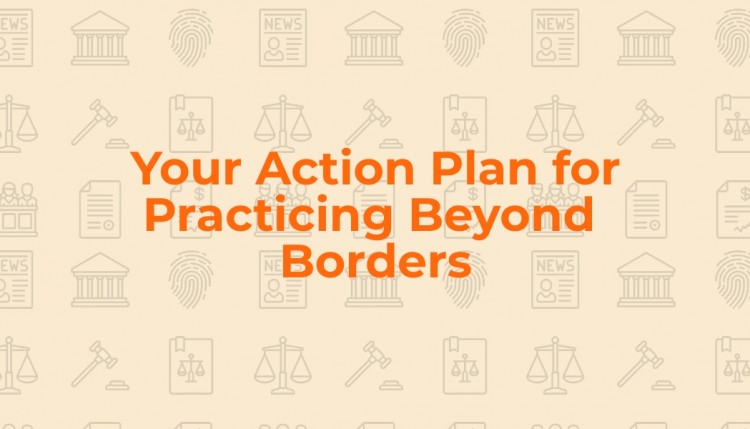 2
Practice Beyond Borders: Your Action Plan
606 views
In the past few weeks, we have discussed how you can operate a scaleable practice as a legal professional in Nigeria using the abundant opportunities that the internet provides.
We discussed, how to operate a reputable law firm without a traditional office structure and what services you can offer clients outside of Nigeria. While the points are undoubtedly important, we also thought that it is crucial to draft an actionable plan. So how do you precisely practice without borders?
It boils down to 5 things:
1. Knowledge seeking and Open-Mindedness
The deftness of your creativity is directly proportional to the range and depth of your knowledge. The more you feed on relevant materials that improve your worldview and enhance your capacity within the career jurisdiction you serve, the better you'll get at creating and/or tapping into the opportunities before you.
So what's the actionable plan here?
– Become a reader; a rabid consumer of resources that improve you and your career prospects.
– Reading generally opens your mind, but there's a need for further conscious efforts to making that happen. You need to have a group of smart people you relate with regularly, preferably smarter than you are. With these folks, you can share what you've been reading (or learning), ask questions and request to be questioned too.
– Write! Someone once said that writing is the most active form of thinking. And that's absolutely true. Putting your thoughts to paper (or screen) forces you to bring your learning to fore. If you have not learnt enough, the act of writing will expose you. And that's a good thing because it basically means that you're holding yourself accountable.
2. A dynamic worldview
Deliberately and persistently searching for new (and better) ways to do things is at the core of the innovators' spirit. So if you think that current court proceedings are generally too slow, your thoughts should be "How do we make this process more efficient?" But it doesn't stop there. To answer that question adequately, you'd want to what countries have the most efficient legal proceedings and how they're going about it.
You should have gleaned a lot of ideas by the time you deep-dive into this adventure. That something has been done a particular way forever does not mean it can't be changed or improved. You must seek to always be at the verge of that improvement.
3. A tech-centric work ethic
You can't fully appreciate what you don't understand, so you need to fully embrace the merits that technology can offer your work. What tools are out there that can help you schedule, research, draft, manage your clients, etc? You need to find them and deploy them for your work. They may be quite inconvenient to use at the moment, but in a few weeks time, you'll be absolutely grateful that you made the switch.
And this is not a general pep-talk, these technology tools will be the primary domain for work in the nearest future, and you don't want to be caught unawares; using a typewriter (metaphorically) in 2019.
We've written about some tools that can improve your work output here.
4. Networking
A lot of people make a fuss out of doing this, but it's actually pretty simple. Essentially, networking is not so different from meeting someone at a shopping mall. The difference in approach is only based on the nuances that the environment presents.
More so, networking isn't just about meeting and introducing yourself to people, in fact, it is more potent in an environment where you can participate. A volunteer at a major event is likely to have better and less-restricted access to a guest than an attendee. So, start from 'contribution'.
Look for forums where legal practitioners meet on and offline and put your ideas forward. Participate in relevant conversations and bring value to the table. People always gravitate towards value.
Also, there are a number of specific events you can start attending and participating in. The NBA Section on Business Law (conference coming up from 26th till 28th June 2019) and Section on Legal Practice are immediate conferences you can start from.
5. Build a practice portfolio
You can easily set up a Google Drive account for free, and set up well-labelled folders that contain all the briefs you have worked on, your legal opinions (published or otherwise), drafts of your unpublished works, research materials on the new areas of law you want to explore and testimonials from clients.
You may also update some of this information on your LinkedIn page.
Having this portfolio handy will make it easy to share with organizations or persons who may require your service or expertise at any point in time. It will also help you track your progress easily.