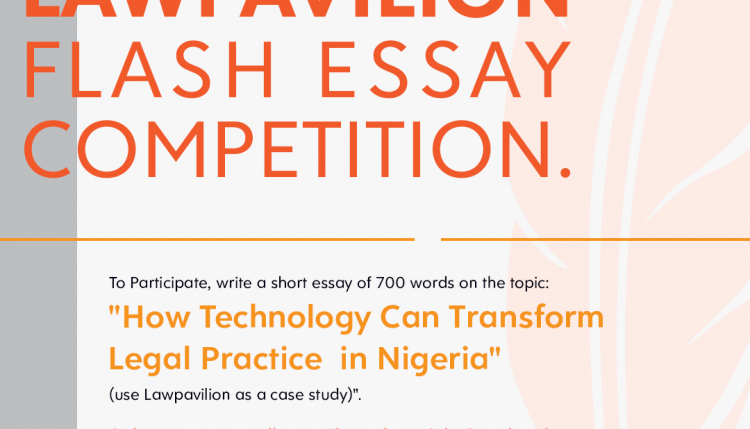 LAWPAVILION FLASH ESSAY COMPETITION – first prize winner
267 views
THIS ESSAY IS THE FIRST PRIZE WINNING ARTICLE IN THE LAWPAVILION FLASH ESSAY COMPETITION TO MARK THE 2019 INTERNATIONAL CUSTOMER SERVICE WEEK.
WRITER: ABDULLATEEF OLASUBOMI ADBUL ESQ.
TOPIC: HOW TECHNOLOGY CAN TRANSFORM LEGAL PRACTICE IN NIGERIA
(USING LAWPAVILION AS A CASE STUDY)
Engaged on a matter, the lawyer rushes to the library, combs through volumes of legal texts in search of legal authorities applicable to the matter, prepares word by word the relevant legal documents (be they court processes, opinions or agreements), and for litigation, attends court with numerous law reports and statutes likely to be referenced during proceedings. This was the
reality of legal practice in Nigeria before the incursion of technology.
Today, the reality considerably differs. Technology is transforming businesses globally and legal practice in Nigeria is no exception. Spearheading the charge in the technological transformation of legal practice in Nigeria is LawPavilion, Africa's leading electronic legal research and practice management solutions Provider. (1) Using LawPavilion as a case study, this essay discusses how technology can transform legal practice in Nigeria.
As a preliminary point, rules 14(1) and 16(1)(a) of the Rules of Professional Conduct 2007 requires that lawyers represent their clients diligently and competently. But the RPC does not expressly connect technology to legal services delivery. One may therefore draw insight from the American Bar Association's Model Rules of Professional Conduct which provides that: "To maintain the requisite knowledge and skill, a lawyer should keep abreast of changes in the law and its practice, including the benefits and risks associated with relevant technology…"(2) Hence, lawyers must keep pace with technology to adequately fulfil their duties of diligence and competence to clients.
There are several areas of legal practice which illustrate how technology can transform legal practice in Nigeria. First is legal research. Du Plessis rightly noted that "competency in legal research remains essential to any lawyer regardless of the area of specialization or type of practice…"(3) Legal research was traditionally conducted manually by painstakingly perusing numerous pages of law reports and statute books. This was laborious and time-exacting. But through LawPavilion's electronic legal research platform, Prime (with its distinct feature of legal analytics and cross-referencing), technology has relegated laborious manual research to the background and eased the seemingly complicated task of legal research.
Another area of impact is law reporting and the administration of justice. Law reporting is vital
to the reliability of case law as a living source of Nigerian law. With the Law Pavilion Electronic
Law Report (LPERL) emerging in recent years as the most authoritative law report in Nigerian
courts, law reporting is now electronic. A LawPavilion subscription relieves lawyers the trouble
of going about with volumes of law reports and statute books, in addition to providing instantaneous access to comprehensive case law and legislation. Judges are also not left out: LawPavilion's Court Manager provides judges with the tools necessary to adjudicate efficiently. (4)
Technology is also transforming legal practice management. Though a profession, Law is also a business. (5) LawPavilion's Case Manager manages schedules, workflow, invoicing, information, and judicial processes on behalf of legal practitioners for improved legal services delivery. (6) With this technology, legal practice in Nigeria will be increasingly administered as an efficient business enterprise.
Document generation is another area. LawPavilion's Solicitors and Arbitrators' Toolkit (SAT) boasts customizable precedents, court forms, and insight notes on various practice areas. (7) Lawyers no longer have to generate legal documents from scratch but can instead leverage SAT technology in preparing these documents.
Technology is also expanding legal practice from its traditional intra-jurisdiction focus to include a wide range of cross-border services. A key aspect of cross-border transactions today is the increasing use of arbitration as the dispute resolution method. The Arbitrators' component of SAT integrates the African Continental Free Trade Agreement (AfCFTA) and will effectively aid in revolutionizing dispute resolution in Nigeria and, by extension, Africa.
Finally, artificial intelligence (AI) is altering commerce including the legal practice globally. LawPavilion's Timi is Nigeria's first AI legal assistant. With Timi, many routine tasks performed by lawyers will be taken over and executed by machine. Lawyers will therefore have to retrain themselves to stay relevant in legal practice in the age of the machine.
It is evident from the foregoing that, unlike many years ago, technology is crucial in legal services delivery. Technology will therefore continue to transform legal practice in Nigeria as the technology trends driven by LawPavilion and currently shaping legal practice in Nigeria indicates an overhaul of traditional legal practice.
---
1) See https://www.ibanet.org/law-pavillion.aspx <accessed 9 October 2019>
2 See comment 8 of Model Rule 1.1. Emphasis supplied by Author by way of underlining.
3) See T du Plessis, "Competitive Legal Professionals' use of Technology in Legal Practice and Legal Research" [2008] PER 21. Available online at http://www.saflii.org/za/journals/PER/2008/21.html <accessed 11 February 2018>
4) See https://www.lawpavilion.com/court-manager.html <accessed 9 October 2019>
5) See Isaac Aburam Lartey, "Is the 21st-century lawyer a professional, a businessman providing a professional service or just a businessman?" (International Bar Association: 17 December 2018),
https://www.ibanet.org/Article/NewDetailPreview.aspx?ArticleUid=bc003d70-4efd-4037-b0b1 27f951fe756d <accessed 9 October 2019>
6) See https://www.lawpavilion.com/case-manager.html <accessed 9 October 2019>
7) Law Pavilion, "LawPavilion opens Experience Centres in Lagos and Abuja – Integrates AfCFTA Dispute Settlement Procedure into Solicitors and Arbitrators' Toolkit" (6 August 2019), https://lawpavilion.com/blog/lawpavilion-opens-experience-centres-in-lagos-and-abuja-integrates-afcfta-disputesettlement- procedure-into-solicitors-and-arbitrators-toolkit/ <accessed 9 October 2019>