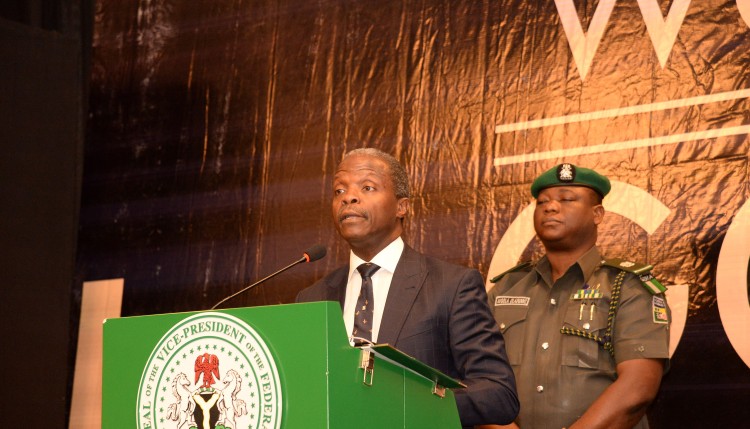 Keynote Address of His Excellency, the Vice President of the Federal Republic of Nigeria, Prof. Yemi Osibanjo SAN, GCON at the "WORDS IN GOLD" Judicial Awards
404 views
FULL TRANSCRIPT: Keynote Address of His Excellency, the Vice President of the Federal Republic of Nigeria, Prof. Yemi Osibanjo SAN, GCON at the "WORDS IN GOLD" Judicial Awards held on July 12, 2016 at the Sheraton Abuja Hotel, FCT, Abuja
The former Chief Justice of Nigeria, Honorable Justice Muhammed Lawal Uwais; Honorable Justice Dahiru Musdapher, former Chief Justice of Nigeria; Honorable Justice Aloma Mariam Mukhtar, former Chief Justice of Nigeria; Supreme Court Justices here present, the Honorable Justice Bode Rhodes Vivour, the Honorable Justice Sylvester Ngwuta; the Honorable Justice Clara Ogunbiyi, the Honorable Justice Kudirat Kekere-Ekun, and the Honorable Justice Chima Nweze. Chief Judges of the various states present; my Lords Judges of the various High Courts; the Honorable Minister of Communications, Mr. Adebayo Shittu; Senior Advocates of Nigeria present; the Director-General of Nigerian Institute of Advanced Legal Studies, Professor Adekunle; the Managing Director of LawPavilion, Mr. Ope Olugasa; distinguished guests, Ladies and Gentlemen; all other protocols and courtesies duly extended.
First, let me congratulate the Lordships, the justices of the Supreme Court who have received compilations of their judgments in electronic format. I think that the gift is appropriate for our Justices of the Supreme Courts, especially the former Chief Justices who are present, and it is good to hear that all Justices now have their judgments in electronic formats, individualized with their own index so that we can actually research our Justices.  But I must say that our Judiciary, especially our Supreme Court, and indeed our Court of Appeal, but in particular I want to emphasize that our Supreme Court has proved to be possibly Africa's most versatile judiciary.
And I say this without meaning to flatter in any way because when you look at the history of our Supreme Court you will find that this is a Court unlike any other in Africa, because the Supreme Court has had to deal with matters on practically every type of constitutional tradition that you can imagine. There is no constitutional tradition that our Supreme Court has not had to deal with, beginning with the civilian parliamentary constitution, from about 1960 to 1966 when the coup took place, and from about 1966 all the way to 1979, the period of the military rule, from 1979 to 1983, of course from 1967 to 1979 all of that period was a period of dictatorship, and so you had a military constitution and what many will refer to as an autocratic constitution, the Supreme Court had to deal with all of the issues under that. Then from 1983 all the way up to 1998, again another military period but in that military period we had a diarchy of sorts, at some point under General Babangida, if you'd recall, we had a Military Executive and we had a National Assembly duly elected by the people. No other court anywhere – certainly not in Africa – has had to deal with that kind of constitutional arrangement but our Supreme Court dealt with it, applied the rules and ensured that justice was done not just according to law but also in many cases with a great deal of creativity. After that period, of course, we had the presidential constitution, all of this by one Court trained in one particular tradition, the common law tradition, but our Justices have proved to be so versatile and so erudite that they really deserve all of the accolades that they have received and that they are still receiving.
I want to say that without a doubt, despite the many criticisms of our Courts, our Courts have proved to be capable of weathering every storm and I think that sometimes we have to just, as on this occasion, we must take time to celebrate the Judiciary, from the Magistrate Court all the way up to the Supreme Court, because they are the ones who have held the balance, they are the ones who have had to deal with the very difficult situations.
I recall very many times appearing in the Supreme Court between 1999 and 2007 where we posed to the Supreme Court very many difficult questions; questions that the Supreme Court had to answer because politicians had failed to answer those questions. In fact it is to the credit of the Supreme Court that at some point the Supreme Court had to decide that the NJC was not entitled constitutionally to be a first charge on the revenues of Nigeria despite the fact that they had been enjoying being the first charge all along; but at some point the Supreme Court under Honorable Justice Uwais had to decide that, well, we are not entitled by constitution, and I thought that was very courageous, very courageous indeed. And this is the sort of Court that we have had through the years. So I really celebrate with all of us today a great Court, a great Supreme Court, and a great judicial tradition in Nigerian legal system and Nigerian Judicial system.
I will just mention very quickly, Mr. Ope Olugasa has already gone to great length to explain what LawPavilion has done by this LawPavilion Prime, this new addition to their already very, very well celebrated catalogue of electronic materials and electronic facilities for legal facilities of practically every kind. But I want to say that we have seen a progression from what one could describe as dusty law libraries to Legal Analytics today. I recall as a Researcher, as a Law Lecturer, I was trying to write on 'legitimacy and Illegitimacy under Nigerian Law', this was in 1982 and at the time there was one High Court decision on this point, a Lagos High Court decision on the question on legitimacy especially with some very vague reference to the 1979 Constitution and, of course, law reporting at the time was practically nonexistent. There was just one or two law reports but they were very irregular, so I had to go and look in the High Court of Lagos State, in the archives of the High Court of Lagos State, and spent six weeks just searching in the archives there until, of course, the files and everything were just jumbled up, and six weeks later I was able to find this one judgment of the Court.
Since then, and of course subsequently, many times just researching cases and researching material you might have to go to Institute of Advance Legal Studies in England just to find appropriate legal material to write articles and publish books and all of that – you had to travel far and wide. Very quickly after that, of course, many of us know some of the stories of how only a few lawyers had access to some of the cases, Supreme Court cases, Court of Appeal cases, and all that. Many will remember that we were told of stories of Chief Williams and a few others. Chief Williams of blessed memory who would fish out a Supreme Court case or Court of Appeal case from his bag, I'm sure that people like Mr. Ebun Sofunde SAN, my senior colleague in law practice, who was Head of Chambers in Chief Williams' offices, will recall that there was very little law reporting and only he was able to fish out all the judgments of the Courts at the time.
But Gani Fawehinmi very quickly came on and – to use his own words – 'democratized law reporting', and made it available through the Nigeria Weekly Law Report practically to everyone on a weekly basis and he simply changed the dynamics of all of that. So we were able to access cases and able to cite cases and we were up-to-date. But then Gani Fawehinmi's Law Reports was in print and he didn't go electronic. So it is through the likes of LawPavilion that we owe the electronic versions of the Law Report to.
But just being electronic is certainly not enough. Being electronic is a better form of the print and one of the critical things about this is that it has also reduced the burden of Lawyers. Of course, we used to go into Court with huge bags, sometimes with up to 10 bags. These days it may not be that necessary anymore, I know that for many lawyers this is not a particularly happy development because those bags were meant to intimidate the Judges and possibly get an adjournment when you show that you are so well prepared and you are about to cite a hundred cases or more.
So I think that what electronic reporting has done, of course, is to put everything in a little device, I mean, in this iPad of mine I have all of the LawPavilion report here which has all the Laws of Nigeria, all the reported cases, Supreme Court, Court of Appeal, everything, just in this little device.
So things have changed dramatically but I think that what LawPavilion has done is to take this a nudge higher with Legal analytics; now Legal analytics is not the same as it's pointed out as electronic reporting, because what Legal analytics does is that it helps the lawyer, or even a layperson, to actually derive legal opinion. In the past, of course, if you were researching a point you had to find out for yourself whether there were conflicts in the cases, or conflicts in the authorities, that was up to you to find out or you had to go and look for it in a textbook if there was any. But now just by using this particular software you can decide and the software will tell you if there have been conflicts in the cases, how many conflicts there have been historically. So you can actually have a historical statement of all of the different twists and turns in a particular legal topic whatever that topic may be. So you can tell what the High Court said, what the Court of Appeal said, what the Supreme Court said at various times on the same point. Now this is so important especially for the practicing lawyer, even for the researcher, and of course for the Judiciary, because it is now much more straightforward to be able to tell whether or not a case is out of sync or is not out of sync, or whether a legal argument is worth making or is not even worth making at all. The Legal Analytics will also tell you by researching briefs of lawyers, it can also even guide you as to what sorts of opinion even a lawyer has held even in his own briefs, so this also analyzes briefs of lawyers. It can tell you all of that as well asides from judgments. So I can tell, for instance, which Judge has said what in each case and what is he likely to say or what is she likely to say especially given the history of legal pronouncements that such a Judge has made.
The legal practice is certainly changing and changing very quickly indeed and I think that what this LawPavilion Prime will do is to really, as they've said, Raise the Bar and they've said in this case Raise the Bench as well. But I think that it is very true indeed that we are dealing here with a development that will greatly change the way that we practice law.
At the NBA section of Business Law dinner, a couple of weeks ago, one of the issues that came up was this whole question of how lawyers will behave in the next few years especially with legal application, with software that is able to give legal advice; you know there is now software that can give some legal advice, you can ask the question 'what are the relevant tax laws for this and that' and it will give a legal advice, a well written and well considered legal advice. You can ask 'how do I establish business in Nigeria? What are the current things?' And it will give well written legal advice. So I think that after a while we might have to review some of those things that we cannot charge for any more as lawyers, because once this applications begin to give legal advice, few and few of such requests will come from clients.
So it is a new day for Lawyers but you can trust lawyers, we will find a way.
Thank you very much indeed. Thank you.