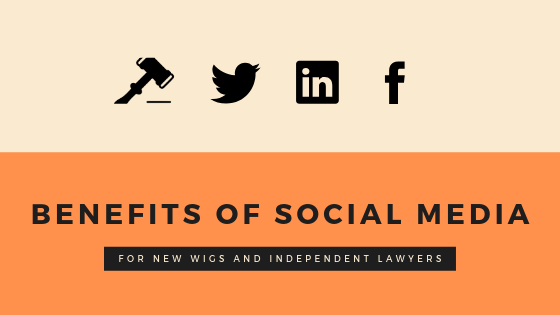 1
How New Wigs and Independent Practitioners can Harness the Benefits of Social Media
507 views
To varying degrees, our level of participation on social media and other online communities is influenced by how generally conservative or liberal we are with personal and professional information. Nevertheless, and irrespective of our views, almost everyone today is aware of how the rise of social media has fundamentally changed how we all communicate in both our personal and professional worlds.
In lieu of the rapid proliferation of social media in social and business spheres of society today, New wigs and independent practitioners may sometimes feel isolated because of the limited knowledge and budget for client marketing, limited access to colleague interaction,  and collaboration opportunities that Lawyers in established firms generally enjoy.
Howbeit, Social media provides one feasible solution; it offers lawyers the opportunity to market their services by developing connections with potential clients and other lawyers.
Connecting with Potential Clients & Industry Professionals
Unlike established firms (who can pay sales professionals to win over desirable clientele), new wigs and independent practitioners may have to reinvest all their earnings for client procurement).
While offline marketing cannot be overlooked, social media platforms provide the opportunity to build and share your profile or portfolio, reach new clients and cultivate relationships with other lawyers and create an online community of people interested in legal content.
The first call of action for every lawyer out there is to create a solid LinkedIn profile. LinkedIn is the most robust digital résumé for every professional and it is the first go-to place for a client to verify the authenticity and professional history of a legal professional.
Twitter, on the other hand, is the quickest platform to share knowledge in real-time. Although limited to 280 characters, tweets can reach a potential 10 million+ users. Each tweet can also include links to websites, news sites, blogs and other types of media.
One nice feature on Twitter is hash-tagging. Tweets attached with tags like '#lawyertweet', etc make it easy for Tweeps (Twitter users) to search legal content and also provides the opportunity to reach an audience beyond only followers – which can include potential clients.
While Facebook and Instagram may help you develop a more cordial relationship with your followers, LinkedIn and Twitter offer the power of exponential networking to identify connections to potential clients.
After you've built a good profile across all social media platforms, you want to follow that up with content that endears you to potential clients and industry professionals. You can find and join LinkedIn, Facebook and WhatsApp groups that provide a place for industry professionals to share content, make contacts, discover answers and become established industry experts in their fields.
This approach can also be used to reach prospective clients by joining groups prospective clients are likely to belong to. A new wig or independent practitioner can also start a new group to share content that potential clients may find useful. For example, you may want to provide startup founders information about Tax, policies and answer to their legal concerns. Content, such as articles, blog posts and how-to guides, based on relevant subject matter, can be shared with an existing (or new) group.